THE LATEST TECHNOLOGY NOW AT YOUR SERVICE.
We have recently added a new scanner to our portfolio: the Go! SCAN SPARK™ from Creaform.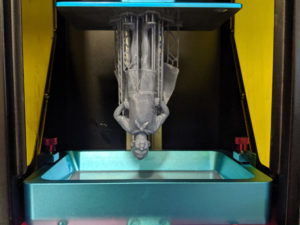 Create functional prototypes.
High detail art reproduction.
Test and Optimize your designs.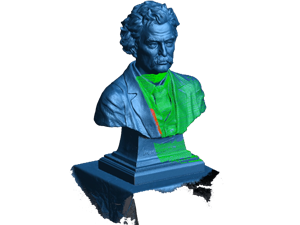 High detail  3D scanning.
Our scanners are lightlweight and portable, making it easy to scan on location!
5 Axis CNC Milling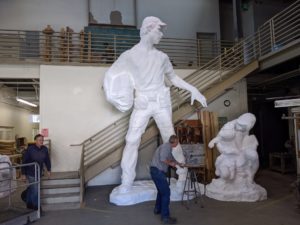 Cut complex forms suitable for:
Art, Architecture, and Pattern Making
Foam, mdf, and various woods available.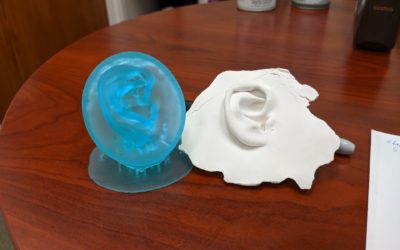 Using Digital Technology to Reproduce Human Anatomy 3D technology has vastly improved the ability to replicate human anatomy. We used traditional life casting techniques, coupled with 3d scanning and printing, to create copies of a human ear....
read more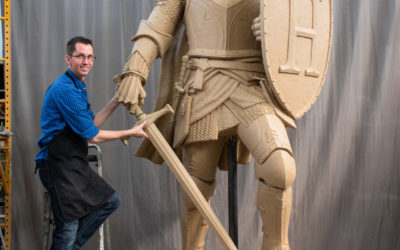 The Higley Knights of Arizona      We had a great time working with artist Scott Streadbeck on this project.  Commissioned by the Higley Knights booster club, this piece was custom designed to present a strong and commanding figure to represent the student...
read more
As a sculptor for almost 40 years, the peace of mind I get form Adonis 3D is priceless!  I do the original sculpture and leave the rest to them.  From an 18 inch clay maquette, to a precise monumental foam enlargement.  From molds, to wax, to a finished bronze, ready for delivery and installation.  Adonis 3D can do it all!
I have been associated with Adonis Bronze for almost thirty years. They have helped me with the scaling up of many large projects, and I have never been disappointed in the trust I have placed in them. This new venture into Adonis 3D has been an enormous addition to my ability to create life-size and monumental figures. Not only on a more timely calendar, but the amount of work expended in the difficult job of armature building and scaling up small maquette into full-scale finished clay has been exponentially simplified. I strongly recommend Adonis 3D for any project requiring digital intervention.
Have any questions? Need a quote for your project? We would love to hear from you!
Adonis 3D is a division of Adonis Bronze
www.adonisbronze.com